Although spring is only just barely arriving, we all know that some of Utah's nicest weather to be outdoors will be in the next couple of months, before it gets too hot. So now is the time to start getting your outdoor areas ready to enjoy.
Has your outdoor furniture been stored over the winter? Or did it just sit outside in the snow?  In either case, it will very possibly need some cleaning and freshening for the upcoming outdoor season.
Jerry Spanger at The Garden Store in Salt Lake City has some suggestions, thanks to one of their suppliers, Kingsley-Bate, manufacturers of fine outdoor furniture. Here are some tips.
For teak furniture: 
One of teak's key benefits, of course, is its resilience and ability to withstand the elements. So the main maintenance it will need is simple cleaning. While the best first step is to hose the furniture down with fresh water, it's recommended that you stay away from the high-pressure hose which can erode the surface grain.
After wetting, Kingsley-Bate recommends scrubbing with a solution of 2/3 cup laundry detergent, 1/4 cup bleach, in one gallon of warm water.  Use a soft bristle brush and be sure to rinse very well.  This is all most teak furniture will need to clean it up so it's ready to enjoy.
For woven furniture, such as all-weather wicker:
Rinse with a high-pressure hose (avoiding any teak details) and wash, if needed, with a mild detergent, warm water, and a soft brush.  Be sure to rinse until there are NO more soap bubbles.  It is recommended to avoid the "foaming" cleaning products since they're likely to leave residue within the weaving which will later attract dirt.
While your teak furniture can actually be left outside over the winter if you'd like, it's recommended that you store your woven furniture out of the weather in a dry garage or garden shed. Or, did you know that Unique Deliveries can actually pick up your outdoor furniture at the end of the season and store it for you in their warehouse?  Then they'll bring it back in the spring and set it up for you.  (Designers: call us if you'd like to talk about teaming up to offer this service to your clients!)
For your fabric, such as Sunbrella ®:
First simply brush briskly (throughout the season, ideally) to keep dirt from becoming embedded.
After brushing, if there is remaining dirt or stains, wash with a sponge, fresh water, and a mild natural soap. Be careful not to use hot water—acrylic fiber is heat sensitive, so shoot for water no warmer than 100°.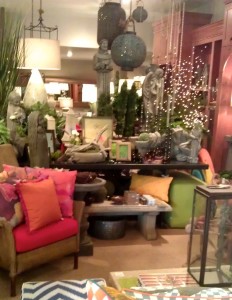 If your problem is not cleaning your outdoor furniture, but rather that you need some new pieces—or maybe just some new accents such as pillows, decorative items, fountains, or advice!—we encourage you to stop by The Garden Store at 678 S 700 E, in SLC.  It's a delightful shop with pieces large and small (and a special "secret garden" that will be opening next month) and Unique Deliveries can deliver your new sofa, stone tables, and fountains (or anything else) right to you.
And, above all else, ENJOY the outdoors!