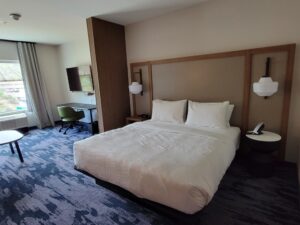 At Unique Deliveries, we take great pride in providing exceptional FF&E (Furniture, Fixtures, and Equipment) installation services for hotels. Today, we are thrilled to share the success story of our recent project: the Fairfield Inn Suites by Marriott in Holladay, UT. This impressive 4-story hotel, featuring 106 guest rooms along with various common areas, was successfully completed in July 2023. We had the privilege of working closely with the Magnus Hotel Management to handle the complete installation of furniture, fixtures, and equipment throughout the property. In this case study, we will highlight the challenges faced, the strategies employed, and the outstanding results achieved through our collaboration.
Project Overview and Challenges
The Fairfield Inn Suites by Marriott project presented unique challenges that required meticulous planning and execution. As with any hotel installation, our primary goal was to ensure that the interior spaces of the property were transformed into functional and aesthetically pleasing environments. Here are some key challenges we encountered:
Large-Scale Installation:

With 106 guest rooms and various common areas, this project demanded careful coordination and efficient execution to meet the deadlines while maintaining the highest quality standards.



Furniture Delivered Directly to the Site:

Instead of receiving the furniture at our warehouse, the hotel owner opted to ship it directly to the hotel. While this decision saved on warehouse costs, it presented a challenge when the rooms were not yet ready for installation. To effectively manage this situation, we had to find alternative storage solutions. We utilized meeting rooms, breakfast areas, and on-site Conex storage units to store the furniture. Throughout the process, we maintained constant communication with the construction and hotel management teams to ensure proper control and safety of the furniture.
Another challenge arose due to shipping directly to the site. Upon arrival, we discovered that some of the furniture pieces and fixtures were missing. Unfortunately, we were unaware of this issue until the furniture was already on-site and the installation process had begun. Complicating matters, the furniture had been purchased from a vendor that was going out of business, limiting the availability of replacement pieces. To source the missing furniture, the hotel owner had to go overseas, causing further delays. As a result, the replacement furniture did not arrive in time for the originally planned opening day, and the hotel had to open two weeks later.
To mitigate this situation, we could have proposed an alternative approach. Shipping the furniture directly to our warehouse prior to installation would have ensured that all pieces were accounted for before the installation process began. This proactive step would have provided additional lead time to order any necessary replacements and prevent the need to move the opening date. Moreover, having the furniture organized and ready prior to on-site installation would have expedited the overall process, and saved cost on unnecessary downtime that our team experienced onsite while waiting for the semis to be organized.
No Elevator:

One significant hurdle we encountered during this installation was the inoperable elevator, which was non-functional for 98% of the installation period. This posed a significant challenge when it came to delivering and installing furniture on the second to fourth floors. To overcome this obstacle, we had to utilize a tall forklift with a boom to lift the furniture to the respective floors, maneuvering it through a hallway window. Each piece of furniture underwent meticulous protection measures during the lifting process. Unfortunately, due to high winds, one headboard was blown off the lift. Despite these challenges, our installation team demonstrated remarkable patience and adaptability, working closely with the project team to ensure the safe and precise installation of the furniture. Effective communication and coordination were essential to navigate this situation successfully.



Brand Standards:

As a Marriott property, the Fairfield Inn Suites required adherence to specific brand standards. It was essential for us to procure furniture, fixtures, and equipment that aligned with Marriott's image and design guidelines while maintaining the unique identity of the hotel.



Timelines and Budget:

Like any hotel developer,

Magnus Hotel Management

had strict timelines, and budget considerations. It was crucial for us to optimize the installation process to ensure on-time completion without compromising quality.
Strategies and Execution
To overcome the challenges faced during the Fairfield Inn Suites project, our team at Unique Deliveries implemented a comprehensive approach focused on efficiency, quality, and customer satisfaction. Here are the strategies we employed:
Detailed Planning:

We began by conducting a thorough assessment of the project's requirements and creating a detailed installation plan. This plan included timelines, resource allocation, and a step-by-step approach to streamline the installation process. Each day, we worked with a specific list of rooms by floors and the corresponding furniture to be installed in each room.

Collaborative Approach:

We maintained constant communication with the

Magnus Hotel Management

to ensure alignment with their vision and requirements. Collaboration was key in ensuring the product was properly placed in each room within the entire hotel, and that Marriott's brand standards were met while accommodating the unique design elements of the hotel.
Efficient Execution:

Our experienced installation team meticulously carried out the installation, paying attention to every detail to ensure a seamless and high-quality outcome. We managed the logistics and installation of FF&E items, optimizing efficiency and minimizing disruptions. We established an assembly line that started with installing furniture on the 4th floor for each room and gradually moved to subsequent floors, finishing on the first floor. We followed a specific sequence, beginning with the headboards, followed by TV panels, desks, chairs, bed platforms, and mattresses. By completing one piece per floor, our team smoothly transitioned to the next floor.



Training and Leadership:

Each furniture installation presents unique challenges and requires time and expertise to assemble. Our lead installers took charge of initially assembling the furniture and figuring out the most efficient process for each piece. They gained expertise through repetition and then trained our team on the necessary skills for furniture assembly.



Teamwork:

Our greatest strength lies in our teamwork and leadership. Our job foreman, supervisor, and floor managers ensured constant communication regarding the progress of each piece of furniture on every floor. Our installation team worked cohesively to ensure accurate and timely installations.
Outstanding Results and Client Satisfaction
Through our strategic approach and dedicated execution, the FF&E installation at Fairfield Inn Suites by Marriott in Holladay, UT was a resounding success. Here are the outstanding results achieved:
Timely Completion:

Despite the challenges of the project, we successfully met all deadlines, ensuring the hotel was ready to welcome guests on schedule. Our efficient execution played a pivotal role in completing the installation within the specified timeframe.



Product Placement:

The installation of this product in the hotel posed unforeseen challenges, but our team tackled them with a systematic and proactive approach. We diligently ensured that every piece of furniture and fixture was properly installed, room by room, taking all necessary measures.
Client Satisfaction:

The Magnus Group expressed their utmost satisfaction with our services, emphasizing the professionalism, expertise, and proactive communication displayed throughout the project. Our collaborative approach and commitment to excellence left a lasting impression on our client.
In fact, Jake Larsen from Magnus Hotel Management had this to say:
"When it comes to working with Unique Deliveries and specifically Jeremiah, I can't emphasize enough the level of thoroughness they bring to every project. From the initial bid all the way through to the final product delivery, their attention to detail has been exceptional. Even when unexpected challenges arise, Jeremiah has consistently risen to the occasion, handling them with a positive attitude and finding solutions. We were searching for an FF&E partner who truly takes ownership of the job, someone who feels like a genuine partner rather than just an employee or contractor. That's exactly what we found with Unique Deliveries. Jeremiah has become an invaluable partner throughout this entire process, and our experience working together has been nothing short of fantastic."
The Fairfield Inn Suites by Marriott in Holladay, UT project exemplifies the expertise and commitment to excellence that Unique Deliveries brings to every FF&E installation endeavor. By overcoming challenges, employing effective strategies, and executing with precision, we delivered exceptional results within the timelines and budgetary constraints. Our collaboration with the Magnus Group ensured that the hotel's interior spaces were transformed into functional and visually captivating environments, meeting Marriott's brand standards.
If you are a hotel developer in need of professional FF&E installation services, Unique Deliveries is here to provide you with exceptional quality and satisfaction for your next project. Whether you have a hotel currently under construction or undergoing renovations, and you're searching for a reliable FF&E partner, we would be delighted to assist you. Reach out to Unique Deliveries today and share the details of your upcoming hotel. We will provide you with a quote and any additional information necessary to ensure a seamless FF&E installation for your hotel. Experience the difference with Unique Deliveries and let us help you bring your vision to life.