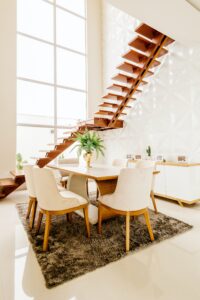 As an interior designer, ensuring a seamless and exceptional client experience is vital for the success of your business. One aspect that plays a crucial role in achieving this is the delivery of furniture and decor pieces to your clients. White glove delivery services offer a premium solution that goes beyond traditional methods, providing not only safe transportation but also assembly, placement, and removal of packaging materials. When choosing a white glove delivery service, it's essential to look for specific qualities that align with your high standards and commitment to excellence. In this comprehensive guide, we will explore in detail what to look for in a white glove delivery service to enhance your interior design projects and leave a lasting impression on your clients.
Punctuality and Reliability
In the fast-paced world of interior design, timing is everything. Delays in deliveries can disrupt your carefully planned projects and leave your clients dissatisfied. Therefore, punctuality and reliability are paramount when choosing a white glove delivery service. Look for reviews and testimonials that highlight the timeliness of the delivery team and their consistent track record in meeting scheduled appointments. A reliable service will respect your time and your clients' expectations, ensuring that furniture and decor pieces arrive as promised.
Handling and Care of Items
The items you select for your clients' spaces are often of high value, and some may even be delicate or antique pieces. Ensuring that they are handled with the utmost care during transportation is crucial to maintain their pristine condition. Look for a white glove delivery service that emphasizes careful handling and protective packaging. Positive reviews should mention the use of appropriate materials such as padding, blankets, and straps to safeguard the furniture from scratches or damage during transit. A team that treats your clients' items with the same level of care as you do during your design process is a valuable asset.
Professionalism and Communication
Clear communication and professionalism are fundamental pillars of a successful interior design project. When evaluating white glove delivery services, consider their communication practices. Look for a service that provides timely updates on delivery schedules and any potential delays. A delivery team that communicates effectively and respectfully with both you and your clients will enhance the overall experience and leave a positive impression. Additionally, professionalism should extend to the delivery team's appearance, behavior, and attitude throughout the process.
Assembly and Installation Expertise
White glove delivery doesn't end at dropping off items at your client's doorstep. It includes the assembly and installation of furniture and decor pieces. A skilled delivery team will have the expertise to handle various types of furniture, including complex modular pieces, and assemble them accurately and efficiently. Look for reviews that emphasize the team's proficiency in setting up items, ensuring that your clients receive fully functional and beautifully arranged spaces without the hassle of DIY assembly.
Customization and Flexibility
Every interior design project is unique, and your delivery service should be able to adapt to your specific requirements. Look for a white glove delivery service that offers customization options to suit the needs of your projects. Whether it's accommodating special delivery instructions, offering flexible scheduling, or providing additional services like storage or debris removal, a service that can tailor its approach to your design projects will be an invaluable partner.
In conclusion, selecting the right white glove delivery service is a critical aspect of your interior design business. By prioritizing punctuality, careful handling, professionalism, assembly expertise, and flexibility, you can ensure a seamless and outstanding client experience. Take the time to research and read reviews to find a service that aligns with your commitment to excellence and attention to detail. A reliable white glove delivery partner will not only enhance your reputation but also leave a lasting impression on your clients, fostering positive word-of-mouth and repeat business. By incorporating these essential elements into your selection process, you can confidently deliver your exceptional design projects with the utmost care and precision.
Are you an interior designer in Utah or working on a project with a house to design in Utah? Unique Deliveries offers top-notch white glove delivery services in Salt Lake City, Park City, and across the state of UT. From receiving and storing to providing expert white glove delivery, we are your trusted partner for a seamless client experience. Let us assist you with your next project. Click here to get in touch with our team and kickstart your design journey with confidence!