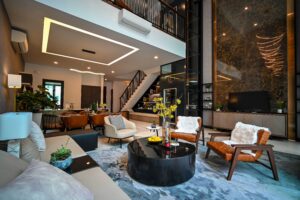 When it comes to hotel development, Furniture, Fixtures, and Equipment (FF&E) installation is a critical phase that can impact your project's timeline and budget significantly. One strategy that is gaining popularity among hotel developers is using warehouse storage for FF&E items rather than having them delivered directly to the hotel prior to installation. In this article, we'll explore the numerous benefits of using warehouse storage during the FF&E installation process.
Benefits of Using Warehouse Storage
Flexibility in Timing
Benefit: One of the primary advantages of warehouse storage is the flexibility it provides in terms of timing. With FF&E items stored in a warehouse, you can better control the installation schedule. This flexibility allows you to time the installation to minimize disruptions to your hotel's daily operations and guest experience.
Risk Mitigation
Benefit: Warehousing your FF&E items can help mitigate the risk of damage or theft during the installation process. Hotels are bustling environments, and bringing valuable furnishings and fixtures on-site too early can expose them to potential harm. With secure warehouse storage, you can safeguard your investments until they are needed.
Efficient Installation
Benefit: Warehousing allows you to conduct a thorough inventory check and ensure that all FF&E items are in perfect condition before installation. This can prevent costly delays that might occur if you discover missing or damaged items once the installation has begun.
Cost-Effective Storage
Benefit: When you choose warehouse storage, you can often secure more cost-effective solutions than storing FF&E on-site. Warehouse storage providers often have the infrastructure and expertise to offer more efficient and economical storage options.
Environmental Considerations
Benefit: Warehousing your FF&E items can be a more sustainable choice. Reducing the number of deliveries to your hotel can help lower your carbon footprint, contributing to your hotel's environmental responsibility.
Secure Storage Options
Benefit: Most warehouse storage facilities offer security features such as surveillance, climate control, and controlled access. This ensures your FF&E items are stored in a safe and controlled environment, reducing the risk of damage or theft.
Streamlined FF&E Installation
Benefit: Warehouse storage allows for a more organized and streamlined installation process. You can coordinate the delivery of FF&E items to your hotel as needed, minimizing clutter and disruptions.
How to Implement Warehouse Storage for FF&E
Plan Ahead
Benefit: Start planning your FF&E storage strategy during the early stages of hotel development. Consider factors like the volume of FF&E items, their size, and the duration of storage needed.
Choose the Right Storage Partner
Benefit: Select a reputable warehouse storage provider with experience in handling FF&E items. Look for facilities that offer climate control, security features, and efficient inventory management systems.
Coordinate Deliveries
Benefit: Work closely with your storage partner to coordinate deliveries to your hotel. Ensure that FF&E items are delivered in a timely manner, aligning with your installation schedule.
Conduct Inventory Checks
Benefit: Before installation, perform a thorough inventory check to ensure that all items are in excellent condition. Address any issues promptly to prevent delays.
Conclusion: Your Next Steps
Warehouse storage for FF&E items can be a strategic and cost-effective choice for hotel developers. To make the most of this approach, follow these next steps:
Early Planning: Begin considering your FF&E storage needs early in the development process.
Partner Selection: Choose a reputable warehouse storage provider with experience in handling FF&E items.
Delivery Coordination: Work closely with your storage partner to ensure efficient deliveries to your hotel.
Inventory Management: Conduct inventory checks before installation to avoid delays and ensure all items are in good condition.
By taking these steps, you can harness the benefits of warehouse storage, streamline your FF&E installation process, and create a more efficient and cost-effective hotel development project. Good luck with your hotel development endeavors!
Hotel
Are you a hotel developer or procurement manager who is opening a new hotel or managing the renovation of a hotel? Unique Deliveries specializes in furniture receiving, warehouse storage, and white glove delivery. Reach out to our dedicated team at Unique Deliveries to help you with your next project. We look forward to ensuring a seamless installation.