Back by popular demand—our spring promotion where you can earn two free delivery hours after twenty paid hours.  It's easy! All you do is schedule your upcoming deliveries with Unique Deliveries. We'll take care of all the details.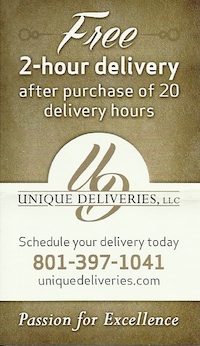 We track your delivery hours and McKay, our Sales Manager, will stop by and initial your "punch card" for all the hours you've used. Once you've used twenty, you'll get two hours free!
If you've never used us before, we have an extra incentive just to give us a try.  Schedule a delivery, then after it's completed, when McKay comes by to initial your card, he'll initial one extra hour, so you're that much closer to filling your card and getting your free hours.
And since we always think it's just a little bit unfair to treat new customers better than your loyal, existing customers, if you're a current customer we'll also give you credit for one additional hour on your punch card!
The program is simple, but of course there's some fine print, so let's cover that just to be sure we all understand the rules of the game.  The promotion runs from 2 January through 30 May 2014 and your two free hours have to be redeemed by 13 June 2014. Free hours are good for local deliveries only, and your account needs to be current with no overdue invoices.  No cash value.
Pretty simple, right?  If you don't already have your punch card, email us at info@uniquedeliveries.com or call 801-397-1041 and we'll make sure you get it.  Then schedule your deliveries, it's as easy as that.