June was exceptionally busy for us, and a big design delivery and installation project finally wrapped. We handled the Parade of Homes installations for Brighton Homes as part of the North Wasatch Parade of Homes, which took place June 21 – July 7.
Our work had actually started months earlier, when we received and stored the furniture in charge of all damage documentation as part of the receiving process. On June 13th we delivered and installed all the furniture and accessories.
Brighton's designer, Tigan, had an incredible design in place for us to follow, and the day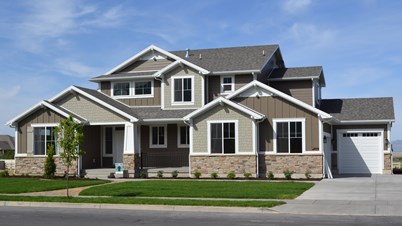 went seamlessly. We placed the furniture in the rooms, assembled beds, put mattresses on the frames, hung pictures, put feet on chairs and sofas, assembled tables, patio furniture, brought in cabinets, put the lamps on the table and even plugged them into the sockets.
Everything was ready and in beautiful condition for the Parade of Homes opening day. The White Glove service was fully in evidence as we protected the home with door jamb protectors and a rug on the floor, and got to work on this design delivery and installation in Davis County.
Following a few days later on June 18th and 19th, we handled the installation  of furnishings from LIV AtmosphereID for designer Shiree Nixon of Timeless Design for her client Jamie Wersland.  As often happens in design and installation projects, we had received and warehoused the furnishings and accessories for several months.
Homeowner Jamie Wersland was directly involved in the tight time frame and schedule juggling for this project. She also was onsite during the installation to direct furniture placement.
The tight construction schedule required us to deliver while the home was still under construction. Concrete was still being poured, crews were painting, and all the finishing construction touches were not quite done. Our crew worked around the challenges and did not impede the builders' staff. This is just one more example of the quality and integrity of the work we perform for our clients.